by creativehair on Oct.01, 2012, under creative hair, creative hair wigan, Hair dresser wigan, hair salon wigan, hairdresser wigan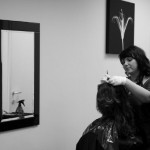 Colour correction at Creative Hair Wigan. Hair is one of the most important things on a woman's body. Many women go to great lengths to obtain it and make it look amazing. And for many, amazing looking locks start with the right colour. Women who are not born with their desired colour can go to the salon to achieve the right hue. However, sometimes things don't always go as planned. There are times when the application comes out looking horrible and further damaging the woman's tresses. When this happens, a woman needs a colour correction. Creative Hair in Wigan is the perfect place for women to have the correction done.
Creative Hair on Darlington Street Wigan can help women deal with and reverse the damage that a chemical has already done to their hair. The hairdressers at the salon are trained in correcting any damage that a client might be experiencing. The best thing a woman can do is speak directly with a stylist to determine whether or not the problem can be fixed. When speaking with a hairdresser, the first thing that should be established is the hairdresser's credentials. It is extremely important that the hairdresser has the knowledge to remove the chemical or chemicals that are hiding in the scalp and along the strands. Once the client is happy, the treatment can be begin.
There are a variety of situations where a shade should be corrected. For example, if a previous hairdresser applied the wrong shade,our stylists can fix it by adjusting it and giving the client the desired look. Also the pigment can be too dark, light, strong or dull. Our experienced and creative hair stylists in Wigan would know what to do to achieve the right hue.
In addition to the reasons why pigment would be corrected, there are also a variety of solutions. Many hairdressers would use deep conditioners, products that produce shine for dull shades, silicone products and natural items that change the shade of the strand.
Colour correction can be a complex system and it is important that a client gets the right hairdresser to do it properly. If you want a different shade or need to fix existing damage, phone Creative Hair on Darlington Street Wigan and speak to Tina, Jamie or any of the team to book an appointment.
Creative Hair also accept all major credit and debit cards.

Hairdressers Wigan, Creative Hair Design, high quality hairdressers in Wigan, we are located just half a mile from Wigan town center. 120 Darlington Street Wigan Greater Manchester WN1 3BH or phone Tina or Jamie on 01942 824668 for more information about the best hairdressers in Wigan and the best hairdressers in the Wigan and st helens area.